Targeting the global market with new technologies to block odors.
본문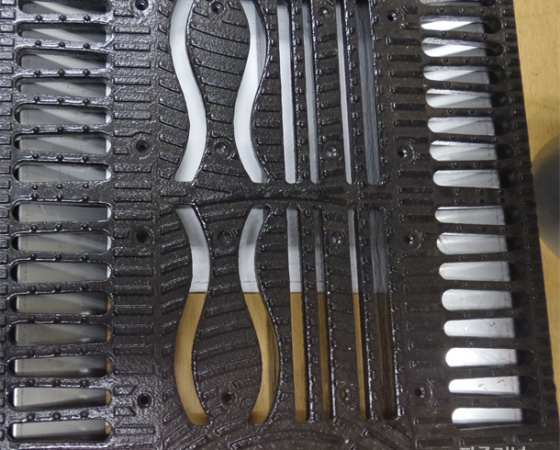 'New technology for Street Inlet Cover to block odors' It aims for global markets beyond Korea
Paju's leading environmental company Chunghae ENV Co., Ltd. (CEO Byeongkwan Lee), which manages and designs wastewater treatment facilities, was selected as a business idea (BI) project supported by the Ministry of Trade, Industry and Energy last year and has been well received and praised for developing products by successfully carrying out the task of commercializing the "Blocking Trash Inflow and Anti-odor Street Inlet" project.
Korean Government is going to carry out 'Blocking Trash Inflow* Anti-odor Street Inlet Project' and export new products to China 
As an MOU agreement was signed between China Shandong Province Construction Group Limited, China Shandong Province Environmental Technology Service Center, and Korea Environmental Industry Association's excellent environmental technology holders on the 28th, the "odor-proof rainwater cover" China would be exported.
Chunghae ENV Co., Ltd. signed a memorandum of understanding (MOU) for business collaboration of environmental enterprises between Korea and China as one of the best environmental companies in Korea selected by the Ministry of Commerce, Industry, and Energy.
The street inlet cover is a product that automatically drains rainwater as the elastic blocking plate mounted on the street inlet lid is pressed by the weight of rainwater when it rains, and when the rainwater escapes, the blocking plate rises and closes again blocking odor.
The development of street inlet cover was initiated for the reason which wheelchairs for the disabled, strollers, and inline skates could easily befall due to the wide gap between existing street inlets common on the side of the road. Considering this problem regrettable, researchers at Chunghae ENV Co., Ltd. have developed a closed-structure rainwater system that considers the disabled and the elderly.
In addition, most of the rainwater coverings are still-grating products, and garbage such as tissues and cigarette butts are discarded and stinky, leading to serious complaints, which have been pointed out as the main cause of road environmental pollution.
The strength of rainwater cover from Chunghae ENV Co., Ltd., which compensates for the structural shortcomings of existing rainwater covers, is the removal of odors by blocking the inflow of rainwater and garbage.
Rainwater covers have secured competitiveness in products by developing environmentally friendly products with a variety of designs that show artistry and creativity for a beautiful and pleasant road environment that can be approached friendly to citizens.
The product offers a wide range of choices, depending on places to be installed, with various patterns and specifications including eddy, fish-type A, fish-improved A*B*C, raindrops, starflowers, our neighborhood, smiles, snails, pear blossoms, numerical expression, and forte.
Chunghae ENV Co., Ltd. is a strong company that operates a corporate research institute holding 11 product patents as a venture company certified for promising small and medium-sized enterprises, management innovating small & medium-sized enterprise (Inobiz), an Excellent Green Management and Biz for SMEs, and a member of Gyeonggi Daejin Techno Park Technology Agreement.
The company is attracting attention as a water pollution prevention facility business, design and management business for private sewage treatment facility, water and sewage facility construction business, water environment control agency (Ministry of Environment), water quality measurement agency, livestock*factory*wastewater*air emission facility report, and renewable energy company (biogas).
CEO Byeongkwan Lee said, "We are managing social return as an environmental-conscious green company," adding, "We plan to install 5% of the annual sales of rain receiver in areas where shopping malls are concentrated, and roads are flooded for free of charge."